BLUES.GR
Laurie Morvan - Intergalactic Blues Rock
Posted by Michael Limnios Blues Network
June 12, 2018
Q&A with fiery lead guitarist and vocalist Laurie Morvan - high energy, rockin' blues from Long Beach, CA
The Laurie Morvan Band is a 5-piece high energy, rockin' blues band lead by a fiery female lead guitarist vocalist. A pumpin', thumpin', tight-as-nails machine from Long Beach, CA, the LMB has fired up over 700 festivals and club dates throughout the USA, Canada and Europe. So much more than just a wailin' guitar slinger, Laurie is a charismatic performer whose stage presence is both powerful and inviting. Her songwriting has a fresh perspective, and her in-between-song banter alternates between inspirational and flat-out hilarious. Laurie Morvan Band concerts feature the beautiful harmonies of Laurie and backup singer Lisa Morvan, as well as dueling solos between Laurie, keyboardist Tom Salyers and bassist Pat Morvan. Drummer Lonnie Jones drives this high-octane train. They are a tight-knit unit that love performing and recording CDs together. Their fun-loving enthusiasm leaps right off the stage… and it's contagious!
The LMB made their first big splash on the national blues scene in 2008 at the International Blues Challenge reaching the finals in the live band competition and at that same event, the band's "Cures What Ails Ya" album was a finalist for Best Self-Produced CD. The Laurie Morvan Band went on to win the Best Self-Produced CD at the 2010 International Blues Challenge competition with their next release, "Fire It Up." And their 2011 release, "Breathe Deep," was a semifinalist for 2012 Best Self-Produced CD. Laurie Morvan released her sixth full-length album, Gravity (2018), with acclaimed drummer/producer Tony Braunagel and his team at Ultratone Studios.
Interview follows by Michael Limnios
What do you learn about yourself from the blues people and culture? What does the blues mean to you?
For me, the blues is about being able to connect with people. Even if someone does not speak the same language as I do, there is a beautiful synergy that happens at a live show and they can feel my message. That is so amazing and powerful! I love talking with all the fans at our shows. People are so kind to share their stories with me and I am inspired by all the amazing things they do, and overcome, in their lives. I feel really lucky to share in that, and their experiences are often the inspiration behind the songs I write.
How do you describe your sound and songbook? What characterizes your music philosophy?
We are a bluesrock band. Both parts of that description are equally important and deserve the same amount of respect. I like the freedom it gives me, and it is what gets my heart pumping!! Traditional blues is awesome, and there are many great artists working in that genre. I enjoy and support what they do. We are equally proud to make our blend of bluesrock music, and my goal is to convey a hopeful message that helps uplift people.
How has the Blues and Rock Counterculture influenced your views of the world and the journeys you've taken?
Playing this music has allowed me to travel to so many different places and meet people with all kinds of backgrounds, interests, cultures, customs and ideologies. If you keep an open mind, there is so much to be gained from that experience! One of the main things you learn is that we can be different and still care about each other.
Which meetings have been the most important experiences? What was the best advice anyone ever gave you?
Best advice (but hard to follow): "Don't take it personally!"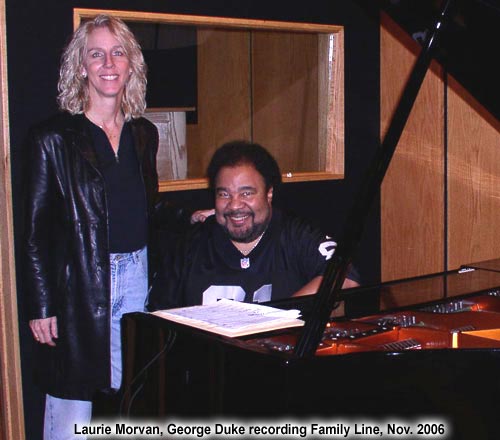 Are there any memories from gigs, jams, open acts and studio sessions which you'd like to share with us?
My favorite studio experience is when jazz piano great George Duke played on my song, Family Line, which was released in 2007 on my Cures What Ails Ya CD. We got to go to his personal studio, which was at his home in the Hollywood Hills. George and his wife Corine were the nicest, most encouraging people. I am so grateful to them for their kindness.
Of course George's playing on the song was amazing, and when he looked at me and said a heartfelt, "Good song!", it was one of the most validating and satisfying moments of my career. He left this earth way too soon. The world needs more George Dukes, not fewer.
What do you miss most nowadays from the music of past? What are your hopes and fears for the future of?
My hopes are that we bring more young people into our rich, multi-dimensional blues world. One of my greatest joys is when young couples in their 20's come up after a show and say, "We had no idea about this kind of music and it is awesome!" I always ask them to tell 500 of their closest friends about the experience they just had. I think they are hungry for what we do, we just have to find a way to reach them.
If you could change one thing in the musical world and it would become a reality, what would that be?
That blues would be a bigger part of the musical world, with a lot more venues and festivals filled up with people who love the blues!
What does it mean to be a female artist in a "Man's World" as James Brown says? What is the status of women in music?
This is a very tricky question. If I address the sexism, then some will call me a complainer…if I say that it does not exist, then I am a liar. That is a "lose-lose" situation! But I will take a chance and say a few words about it. Female musicians have to walk a very precarious path, which can cut both ways. Being seen as a novelty can help you get attention sometimes, but it also means you are often not treated seriously or with respect. Women in the blues are sometimes seen as a genre, which is ridiculous, since we are as varied in our styles and talents as the men. For example, regarding not getting a booking on a festival once, I was told, "We love you Laurie, but we have already booked our woman for this event." That is an exact quote. I looked at their lineup, and they had 10 acts all fronted by male bluesrock guitar players, and one soul blues act that had a female front singer. So it was okay to have 10 guys doing essentially the same thing, but I couldn't get booked because there was another woman on the bill, who did not play an instrument and whose music was a completely different style from mine. Crazy! But, on the bright side, I do want to let everyone know that things are getting better, and I have seen a lot of progress made over the course of my career. The journey is not complete, but I am grateful for the gains we have made. Thank you to everyone who in their own way, large or small, is contributing to this forward motion. Let's keep it rolling!
What is the impact of the Blues and Rock music on the racial, political and socio-cultural implications?
Music is one of the most powerful healing forces in the universe, and in my opinion blues-based music is the most healing of all! When people have a shared musical experience, their hearts open up, and that helps bridge the divides that may exist between different groups. I believe that we musicians have a sacred calling to spread love and healing throughout the world. I feel privileged to do my small part in that.
Let's take a trip with a time machine, so where and why would you really want to go for a whole day?
I wish I could go back to the very first time someone was taught to hate someone else simply because they were different, and just stop that from ever happening anywhere in the entire universe for all times eternal! Fear of the "other" causes so much pain and suffering in our world. Can you imagine if that disease had never been incubated and allowed to spread? One of the things I love most about music is how it helps unify people, if even for just a short time.