Laurie on front page of Weekend Section
with page 4 feature article
News-Leader, Springfield, MO - July 24, 2008, Weekend Section
by Phil Dickey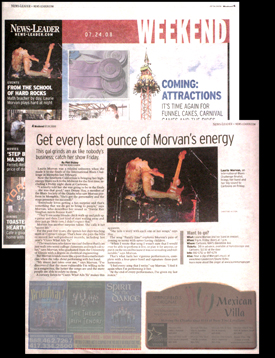 Laurie Morvan, an International Blues
Challenge finalist, brings her band and her big sound to Cartoons on Friday, July 25, 2008.
"This gal grinds an ax like nobody's business; catch her show Friday"

Laurie Morvan was a relative unknown when she made it to the finals of the International Blues Challenge in Memphis last February. Now the Southern Californian is bringing her high-energy blues-rock to the Midwest for the first time, including a Friday night show at Cartoons.

"I actually told her she was going to be in the finals ... she was that good," says Denny Slay, a member of the Blues Society of the Ozarks who saw Morvan perform in Memphis. "She's got the personality and the stage presence (to succeed)."

"Everybody loves getting a fun surprise and that's something that we do get to bring to people," says Morvan, who describes her sound as "Stevie Ray Vaughn meets Bonnie Raitt."

"They'll see some blonde chick walk up and pick up a guitar and then I just kind of start wailing away and they just go 'Holy cow, I didn't expect that.'"

Morvan has another surprise talent. She calls it her "secret life." For the past five years, she spends her days teaching math at Cyprus College. That's how she pays the bills to record her self-produced records, including last year's "Cures What Ails Ya."

"The musicians who know me can't believe that I can just walk into some college classroom and teach calculus," says Morvan, who graduated from the University of Illinois with a degree in electrical engineering.

But Morvan sounds more like a poet than a mathematician when she talks about performing with her band. "My music just takes over me," says Morvan. "I've discovered that the more vulnerable I'm willing to be as a songwriter, the better the songs are and the more people are able to relate to them."

A cursory listen to "Cures What Ails Ya" makes this apparent. "She tells a story with each one of her songs," says Slay.

The song "Family Line" explores Morvan's pain of coming to terms with never having children. "When I wrote that song I wasn't sure that I would ever be able to perform it live, or play it for anyone, or put it on the record because it was so revealing and vulnerable," says Morvan.

That's what fuels her vigorous performances, complete with a four-piece band and signature three-part harmonies. "At the end of every performance, I've given my last ounce."