Laurie Morvan Interview
by Brian D. Holland.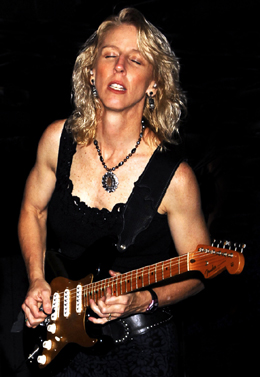 Laurie Morvan. Photo by Stephanie Hopson.

Anyone familiar with guitarist Laurie Morvan knows sheís a complete performer who takes her music seriously. Following the release of her third CD, Cures What Ails Ya, the stunning California axe slinger has seen the doors of recognition open up to her exhilarating electric blues guitar style. However, this occurrence was far from effortless. Laurie found out the hard way that it often takes time for a female blues guitarist to be taken seriously. Some nightclub doors werenít open to the idea at first, be it a good idea or not. "I donít want a girl guitarist. We had one last year," sheíd often hear, like she was a mere novelty item. But ultimately, unbiased listeners have come to recognize the true authenticity and devotion in her music and in her guitar playing. Laurieís fluid licks, incredible tone, and the emotion she exerts in her songs, of which are mostly original, are evidence enough of just how serious she is.

Though her knowledge of music began with the usual teen interest in pop and rock, she later discovered the music of the Allman Brothers Band, Lynyrd Skynyrd, and especially Stevie Ray Vaughan. Eventually realizing that the music was derivative of traditional blues, she dug deeper and discovered Robert Johnson, Etta James, Freddie King, and more. Determined to make music her true calling in life, she used her University of Illinois degree in electrical engineering (also acquiring comprehensive pilot training and licensing) as a way out of her hometown of Plainfield, Illinois. Laurie eventually relocated to Los Angeles, where, following a brief stint in aerospace engineering, she began playing music fulltime.

There was no stopping Laurie Morvan once she fully realized her potential as a guitarist. The fact that sheís a superb vocalist with a knack for composing great songs only added fuel to the fire already burning in her playing. Her first CD, Out Of The Woods, was released in 1997 when the band was known as Backroad Shack. The opening song, "I Shoulda Known Better," got into an amazing rocked up feel at the get go, and flaunted her flair for tone, smoldering guitar licks, great songwriting, and appealing lead and background vocals. Known as the Laurie Morvan Band for her second release, 2004ís Find My Way Home, put greater emphasis on the talents Laurie and the band were already known for. All the while, her guitar playing and songwriting skills were fermenting and maturing significantly.

Cures What Ails Ya flaunts Laurie and the band at a pinnacle height of creativity for 2007 and the new year. Itís easily their best work to date, and the music is fresh and exciting. It begins with a raucous "Kickiní Down Doors", in which Morvan gets into some fiery guitar solos. Her tone is about as clean and creamy as a Strat can get, and the notes merge together and soar about in melodic fluidity. Those closed doors of injustice mentioned earlier are perpetually knocked down in this one, as Laurie proves sheís a guitarist to reckon with on each and every track. Most of the album is a theme of sorts, one that runs the gamut of righteousness and the power of positive thinking.

"My Baby Says" is an ideal blues number. The Christine McVie faÁade in her voice makes way for background vocals possessing an Andrews Sisters air, where it all infuses into vigorously poignant harmonization. Though "One Little Thing" is like a slow blues in the vein of B. B. Kingís "Thrill Is Gone" at the onset, the tune is all Laurie just as soon as the heartfelt vocal takes off. Again, I canít help stressing the McVie semblance I perceive in her voice. This feature is amplified in the more contemporary and beautifully executed "Family Line", primarily because of the standout piano and fashionable vocal melody. The quality is a good one, as itís a mere similarity and doesnít eliminate Laurieís originality one bit. "Family Line" is an incredibly beautiful and perfect song, and itís an ideal example of Laurieís ever-increasing proficiency as a songwriter. The melancholy mood the ballad purveys quickly vanishes when she breaks into "Wiggle Room". A supple wah-wah effect starts the instrumental. Kind of on a "Hideaway" path, itís a wonderful display of the diversity and flexibility in her playing.

Another song on the new release raises the question "Where Are All The Girls With Guitars?" Itís not as much about nonexistence as itís about telling them to stand up and take a rightful place in music. She aims a humorous and harmless jab at Wynonna Judd in the songís lyrics as well. Upon reading that all the guitarists are actually guys in the country singerís song "Girls With Guitars" (penned by Mary Chapin Carpenter), Laurie questions, "Where are the girls with guitars"?

Though many female guitarists exist on the scene today, many of whom are extremely talented, it's accurate to say that female players in general, especially those in male dominated areas such as blues and rock, are still a minority in most circles. Indeed, it wouldnít be too far off the mark to consider them virtually "underground." However, one whoís smokiní good and a genuine hot item on the blues scene currently is Laurie Morvan. After listening to this lady for a while now, I can honestly say that I believe Stevie Ray Vaughan and even Freddie King would be smiling from one ear to the other upon hearing her play. Theyíd probably become huge fans.

Laurie was named Female Artist of the Year for 2006 by the Blues Marketing Network, a southern California group of blues music insiders and professionals. Itís undoubtedly a huge award for her, as itís extremely gratifying for any performer to garner such recognition from their peers as well as other people in the know.

Below is the conversation I had with Laurie Morvan on June 6, 2007.

* * *

Listen to "My Baby Says" from Cures What Ails Ya





* * *

How did a young girl who grew up in rural Plainfield, Illinois get interested in playing the blues?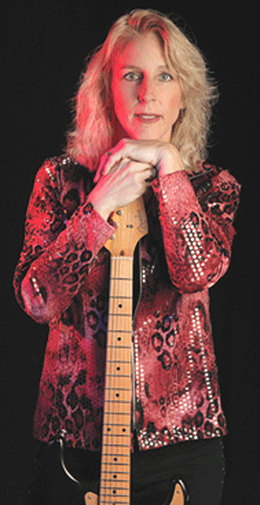 Laurie Morvan

Laurie Morvan: You know, I think it was just good fortune that I happened upon it. I certainly didnít grow up with it. My parents didnít listen to the blues. My friends didnít listen. Really, it was from being exposed to Stevie Ray Vaughan that I kind of went with this stuff. This is cool, I thought, and then it just resonated. I guess, as an artist, or a budding musician or young person, it just made sense to me. It just resonated through my whole body. It was something I was immediately drawn to and attracted to.

Youíre a graduate of the University of Illinois with a degree in electrical engineering.

LM: Yes.

Was it an easy decision to leave the security of that business to join a touring band?

LM: It really wasnít a hard decision. Being an engineer was kind of a means to get myself out of Plainfield, Illinois, if you will. It brought me to Los Angeles. It wasnít a hard decision. I was ready to go. I made money as an engineer, and it got me established out here in California, and then I was gone, you know. Once I had the chance to play music full time I took off.

Sure. I enjoy your lead guitar playing style. You have such fluid movement and nice tone. Though you touched on Stevie Ray Vaughan already, are there other specific influences you credit for helping you develop that style?

LM: For me it was kind of a melting pot. Iím a sucker for a good song, and Iím a sucker for great playing in any genre. I listen to a lot of different stuff, and even though I loved Stevieís music, I donít necessarily sit and learn whet he does note for note. I listen more and I let things settle in. Iím really, really impressed by the country guys who play all that clean stuff. That was sort of my entrance into all the chicken pickiní and stuff that I just love to do. Itís so clean and you have to be so good technically, and itís very musical. When I practice, "creative practice" I call it, I let my hands kind of fiddle around on the guitar. Iíll hear something in my head and Iíll go after it technically.

In your opinion, do gender boundaries and challenges exist in the endeavor to become a successful blues guitarist? Is it a comfortable atmosphere for women out there these days?

LM: You know, let me put it this way, once youíre on the stage itís comfortable. Nobody cares, and the fans are very open to a female guitar player. The difficulties lie in getting past the barriers of the talent buyers, Iím sad to say, who still want to categorize female guitarists as a novelty. I canít believe this day and age that Iím saying it, because itís much better than it used to be, but sometimes still, there are barriers that have to be overcome. You have to work so hard just to get the gig, and once you get it, you know ... I mean Iíve known an owner before, whoíll remain nameless, that said, "Iíll never book a girl guitar player. Sheíll never play here." Finally, someone put in a good word for me. I got in and they booked me for eight more shows. The same people who said Iíd never play there, because they had never heard me, there was that automatic barrier there. Thatís what Iím talking about; they hadnít even heard me yet. But thatís not every club. Some are very open. Some looked at it as a nice change of pace for their club. They give you the chance.

If some of the naysayers would just open up and take a look theyíd see that there are really a lot of great female blues players out there today. Does a camaraderie or fellowship atmosphere exist between blues guitar women?

LM: Well, I donít happen to know very many. I suppose weíre all off and kind of gigging and touring in our own little world. Weíre all working and trying to make things happen. It hasnít happened yet for me that Iíve gotten to really share the stage or do a festival or something with another player. But I think it would be great. I think it would be fun. I would look forward to that.

Your singing voice sometimes reminds me of Christine McVie. Has anyone ever mentioned that before?

LM: No. I donít think anyone has ever mentioned that particular name, but Iím a fan of hers, so thatís cool. Thank you.

Itís more on the blues side, of course, but it does sound a lot like her at times, in my opinion anyway. But Iíve mentioned other names to other singers as a comparison and itís sometimes like "I donít know where the hell you got that idea." [Both laughing]

LM: Itís like taking a bite of food or something, and everyone saying what it reminds them of. It tastes like something else. There are certain aspects of a personís voice, and their songwriting.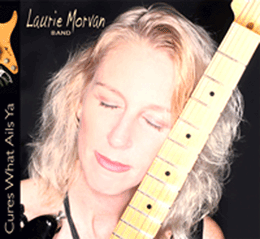 Cures What Ails Ya
Talk about the making of "Cures What Ails Ya." Itís actually your third CD.
LM: Itís my third CD, and I have to say that it was the greatest recording experience of my life. I had such a wonderful time making this CD. We had a budget, and we had plans for it, so we were able to make a pretty big budget record for being an independent artist. Getting to work with the caliber of people that I got to work with was just an incredible experience. At every level, from the engineer to the studio to the great guest artists we had on it, it was just a real highlight of my musical career so far.
I noticed that the bass player in the band has the same last name as you.
LM: Yes. Heís Pat Morvan, my ex-husband. We split up about twelve years ago, but weíre great friends and we kept the band going. Everybody gets along, so thatís a good thing.
Now, thereís a semblance to Christine McVie again.
LM: Yeah. There you go. [Both laughing] Thereís our connection to Fleetwood Mac, if you will.
You played with George Duke for a while. Talk about that experience.
LM: Oh! That was so wonderful. George Duke is such a wonderful human being. Heís a beautiful and talented musician, and heís a beautiful person on top of it. Getting to be in his studio and standing in the middle of his gold records and Grammys, it was really a great place to be. He brought so much to that song he played on, "Family Line". It just needed that kind of a player. I remember being in the studio, and when he was playing I was fighting back tears. I was so moved by it. It was wonderful.
You wrote most of the material on your three albums, including all twelve on "Cures What Ails Ya."
LM: Yes. Iíve written almost everything, except for about three songs on the second album.
Songwriting is obviously an integral part of your musical being. Does it come easy to you?
LM: You know, it gets easier and easier as the years go on. Songwriting, to me, is the most important aspect of being a musician. It has to start with a great song, and then you need great playing to support that great song. I spend as much time working on the craft of songwriting as I do working on the craft of guitar playing. Being a guitar player is so exciting and challenging. The guitar is this unending source of inspiration and wonder for me; it really is. I love to play the guitar. But to my thinking, if you donít have a great song, then youíre just practicing. The song is the number one most important thing. My songwriting has continued to grow because I invest so much effort, love, and hard work into it. I do enjoy writing a good song. Iíll sit back and go "Wow! That came out of me." I feel so grateful.
Talking about great songs, "Kickiní Down Doors" is just that. It really kicks, and itís a good opener.
LM: I think we knew early on in the recording process that that song was going to be the albumís opener. It gives people a really good idea of who we are because weíre still introducing ourselves to the world at this point. Sometimes people donít listen to a whole CD. I donít mean someone who buys it; IĎm thinking maybe someone whoís scanning, a reviewer, or whomever. Sometimes they donít get to listen to the whole thing. So we had to put that one right in there to say, "Okay. Hereís who we are".
The next song, "My Baby Says," is an ideal blues number. I see it as the quintessential blues song for the Laurie Morvan Band. It seems to contain all of the fine elements that make up an excellent electric blues.
LM: Thank you. I think youíre right. People dance to it a lot when weíre out at a live show. I start into that opening guitar riff and people come right up to the dance floor. Itís interesting that you say that; I would agree with it because even though itís a new song for them I think it feels like a friend as soon as they start hearing it. It has nice harmonies, clever lyrics, and all of the elements we like to put into a song.

"One Little Thing" is a nice slow blues. You do an interesting solo midway thru. I noticed, after listening from the beginning of the album all the way up to it, that the solo in that one is kind of a fatter sound. Do you do something different, like switch from the bridge to the neck pickup?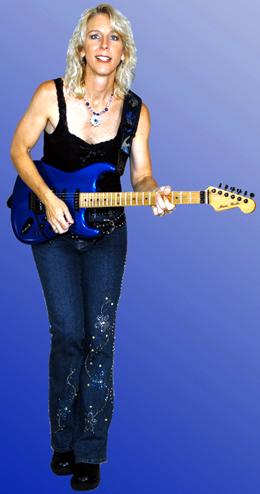 Laurie Morvan

LM: I basically live on my neck pickup. Itís my favorite place to be. Iíll use different pedals, though only a couple. Iíll use my Bluesdriver and my reissue Tubescreamer sometimes. With this album I was going after a real organic guitar sound. I didnít want a very effected, overdriven sound. A lot of people are using a lot of distortion, and they sound great, but I wanted the tone on this album to be a little cleaner. You have to be a little more technically proficient to play cleaner, and itís more challenging, but it was a purposeful decision. With "One Little Thing" I wanted more of a vulnerable and exposed tone to match the feeling of the song.

Talking earlier about the importance of good background vocals, when it comes to good melody and background vocals that add another dimension to the song, "Donít Give It Up" comes to mind.

LM: We did some different things. In the verses, the background vocals sort of do the lead and then I answer back. When I first wrote the song, it was all me singing the lead vocal through the whole thing. Then we had the idea to let the background vocals sing the B part of the verse, or the second half of the verse, and then I answer. We thought it created a really nice vibe.

Yes, it did. Youíve got the wah-wah going in the intro to "Wiggle Room", which is kind of like a ďHideawayĒ instrumental.

LM: Yeah. Itís kind of an up-tempo, go after it song.

Players sometimes get carried away with effects. You have a good touch with the wah-wah. I know weíve touched on this a bit already, but is it important for you to only use effects in small amounts?

LM: Yeah. The wah-wah is something you can fall in love with and just want to put everywhere. I like to use it for a flavor, and it just seems to add to the mood of that intro, and then wham! The song comes in. I put a little wah-wah thing in the middle of "Wiggle Room" as well, but the wah-wah can be a little overused. I like to use it for some seasoning. To me, you have to be subtle with the motion of a wah pedal. It gives it kind of a nicer sound. Subtlety is the key.

"In The River" is a potent and rocked up finally. Itís a really nice song.

LM: Thanks. Weíve gotten a lot of complements on that song. It has a good hook in it.

You were named "Female Artist of the Year" by the Blues Marketing Network on Sunday, April 8, 2006.

LM: Yes.

That must have been an exciting award to win, considering the fact that itís an organization of blues musicians, promoters, venue owners, and other professionals in the business.

LM: It was. Itís a southern California organization. It was great, of course, to be recognized by those in the business. I didnít know it was happening, or even going to be done beforehand.

Thatís really cool.

LM: Thanks.

Gear now. Itís mainly a Strat.

LM: Yeah. I play my Strat mostly, a 56 Fender reissue from the custom shop. Finding that guitar was quite an extravaganza. My friend has a vintage 1955 Strat, and it has this beautiful, singing tone. And itís so light. My gosh, the thing weighs seven pounds. We took that everywhere with us, and we went all over trying to find a new guitar. I wanted a new one for the album. I had the sound I wanted in my head, and I knew I had to get a new one in order to get that sound. I tried hundreds of guitars, but nothing stood up to that singing tone. We finally found this guitar. A part of the tailpiece had been broken, so it had been in the store for a year or two. No one had been able to try it, and then the guy said, "Hey! Wanna try this one? We just got the replacement piece." Oh, sure, you know. So I plugged it in and then, oh, my gosh! I first played my friendís Ď55 to tune up our ears, and then we plugged that guy in. It was one of those things where literally every head in the room turned and went "Wow!" With every guitar, it depends on how the wood comes together and all of the pieces. I knew right then; it was "Oh, my gosh!" Something was totally special here. And it was five minutes before closing time at the store. I couldnít make that big of a decision then, so I had to wait a day. I immediately went back and got that guitar. I knew that it was really special once I heard it.

So thatís your main stage axe now.

LM: Exactly. Thatís always in my hands.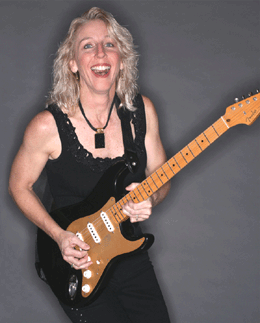 Laurie Morvan

It has one of those beveled gold pickguards on it.

LM: Yeah. Itís black with the gold pickguard. And for recording the new album Iíve got a Tone King Meteor II. Itís 40 watts, and itís just a great amp. A guy in Maryland makes them one at a time. Itís all hand wired, all tube, and itís a real creamy-buttery sounding amp. Iím real thrilled with it.

Thatís great. Well, it would be nice to see you get out and do a big tour of the east coast, of the whole US and maybe more. Iím sure everyone who hears "Cures What Ails Ya" will be looking forward to seeing the Laurie Morvan Band.

LM: Yes. Weíve got to get that set up. Weíre definitely in the market for a national booking agent. Since the new album has come out, doors are starting to open for us. We have a lot of momentum right now, and itís a real exciting time in the band. Iím anxious to get out and bring my music around the country.

* * *

Related Links
Laurie Morvan
Brian D. Holland's column on Modern Guitars