Laurie Morvan Band - Live at The Highdive, Champaign IL
Sunday, July 27, 2008
Laurie Morvan Band website: www.LaurieMorvan.com
Picture this: a five piece group in which three members are female. At one point the male bass player is given a solo. After Pat Morvan's ripping riffs on a six-string bass, band leader Laurie Morvan says to the audience, "I know exactly what all of you are thinking. 'He's pretty good for a boy!'" That brought howls of laughter from the audience and even Laurie herself. Beyond the humor, Laurie Morvan is dead serious about evening the guitar-playing field for both genders.
"Where Are All The Girls With Guitars" is the third track on Laurie's highly acclaimed and door opening third album, "Cures What Ails Ya." This number is performed live with particular relish. Prior to the song, Laurie revealed the inspiration for it (as she did prior to many numbers). Having heard on the radio Wynonna Judd's "Girls With Guitars," Morvan had hurried to buy the CD and tear it open to learn who all the girls with guitars were on the record. To her dismay, all the players were hairy legged boys.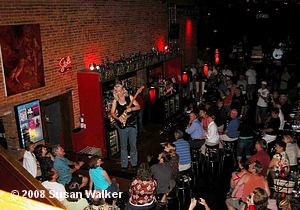 On most numbers, the energized, leg kicking, stage pacing Morvan played the guitar intensely hard. It was obvious she liked being on the edge of all that amplified power – sort of like a surfer riding on the edge of a huge wave. At one point, Laurie left the stage with a wireless transmitter and walked through the crowd – even taking a swagger up and down the bar top.
Morvan also performs songs with utmost sincerity. During the sound check, she told the tech, "Make sure the vocals can be heard, otherwise, what's the point?" Indeed, she and her two backup singers and bass player laid down some beautiful harmonies and meaningful messages in the lyrics. Morvan established great rapport with the audience by not only telling song inspirations but also sharing e-mails she has received about what one of her songs has meant to a fan. On one slow number, the deeply personal "Family Line," she was even brought to tears. Possibly that was because her Illinois mother and step father were seated in the audience along with a van load of friends.
I must admit my ignorance, before this show all I knew was that Morvan is from California. Well, it turns out that she is originally from Plainfield, Illinois, about an hour from my Illinois home. Her Champaign IL gig turned out to be a homecoming of sorts as she is a University of Illinois graduate who was an MVP on the volleyball team in the mid 1980s. Her old coach was in attendance along with several girls way taller than me (and thinner).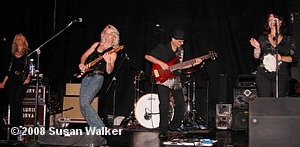 The Laurie Morvan Band is the most unique five piece troupe I have seen. Upfront is Laurie on guitar and lead vocals. Beside here are two female back up singers, Lisa (Grubbs) Morvan and Carolyn Kelley, who add tambourine and shaker percussion. Also adding vocals are bassist Pat Morvan, and drummer Kevin Murillo is the fifth member and only other male. So, basically, it is a power trio with two backup singers.
Across two sets, Morvan and band gave it their all on mainly their original numbers like "Kickin' Down Doors," the fun "My Baby Says," the inspirational "Keep On Believin,'" and (my favorite) the wonderful three-part-a-cappella-opener, harmony-guitar-fest "Way Down/One Little Thing."
I was glad to be Where this Girl With Guitar was Sunday night, and I can not wait for her Midwest return tour "next summer, or maybe January '09." Stay tuned!
Reviewer James "Skyy Dobro" Walker is a noted Blues writer, DJ and Blues Blast contributor. His weekly radio show "Friends of the Blues" can be heard each Thursday from 4:30 – 6:00pm on WKCC 91.1 FM in Kankakee, IL